FOR IMMEDIATE RELEASE (Winnipeg, March 24)  Courtney Feldman is based in Winnipeg, but she is in high demand across the continent. Internationally certified as an impression management professional, she is one of only two people in all of North America with that professional designation.
And what she does makes a difference.   When speaking about today's competitive employment marketplace, she says : "Credentials alone do not equal success in the new world of work.' She points out that "professional presence, social smarts, and an ability to convey civility are essential to managing first impressions. A positive and lasting impression can significantly increase your chances of success, both personally and professionally."
Essentially, what your mother taught you has never been more true than it is today:
First impressions matter.
"I take great pride in helping both individuals and corporations present themselves in the very best way possible,"  Feldman says.   Through her company, HIGHStyle Impression Management, she offers training services in four key skills areas related to conveying lasting positive impressions.  These four areas –  Professional Presence; Podium Protocol and Presentation Skills; Professional Performance and Confidence; and Social Etiquette, work together to create an impression that represents your brand and speaks to your credibility.
HIGHStyle Impression Management, is a full-service impression management consulting and training company offering public, customized private and corporate tutorials as well as online and live certifications.  Clients regularly include team leaders that want to fine tune their organizations image through their employees as well as those looking to improve their own professional presence.  They also assist job seekers – recent graduates as well as those re-entering the work force and professionals who need to enhance their speaking skills for a particular presentation or networking event.   People who simply want to boost their own confidence also work with HIGHStyle to learn how to put their best foot forward – whether personally or professionally.
Courtney says : "It's not just about that dress or suit, the way you speak, your confidence or your social grace in the way you present yourself…each element is critical and works together.
We help our clients leverage their first impression into achieving their  career and personal goals.
We work with them to  build an all-encompassing positive first impression.'
Some of the featured programs HIGHStyle offers :
-Executive Finishing School; a certificate program in social competence for business professionals.
-The HIGHStyle Career Launch Program; a program designed to focus your job search and define your professional presence.
HIGHStyle also offers individual and organizational/site licenses for usage rights of its signature copyright programs and materials.
For more information about HIGHStyle Impression Management and it's programs, visit
Some talking points for media segments / interviews:
What should a new graduate do to prepare to put their best foot forward?
"It's not enough that you are wearing a new suit and you have a copy of a suburb transcript in hand, you need to demonstrate to an employer you are the right fit for their company – they can teach you all the technical skills you need to do the job, but they can't teach you to be trustworthy,….,or how to fit into their corporate culture.
To advise a new graduate, preparing to put their best foot forward, I would begin by conducing a full assessment and evaluation on the image they are currently projecting. This assessment would include reflections on every aspect of their professional presence, including (but not limited to): physical image, level of self-confidence, ability to communicate (both verbally and nonverbally), social awareness, and online presence."
Advice for someone who is nervous about public speaking or about an upcoming interview
"The problem with being nervous about an upcoming speaking engagement or interview, is that you are focusing all of your attention on yourself – when really, you should be shifting your attention to the listener. Remember, they are there to learn something from you, so by focusing your energy on creating content that is relevant to your listener, you can relax and be confident that you will be making a positive impact with your presentation.
As a practical tip to keeping meeting presentations on track and engaging, I would encourage presenters to try not to 'wing-it' – have an outline and follow it, you may know the content inside and out, but you never know what type of distractions may be thrown your way…better to be prepared then be surprised."
Advice for  someone who is bored with their style? Or to someone who doesn't feel confident in the clothes that they wear?
"What you wear is often the basis for others to create a first impression of you – and not only on your taste in clothing, but of your credibility, trustworthiness, competence, and level confidence. To begin updating your professional presence, we need to clearly define your style preferences and the message of your personal brand.
A practical piece of advice, regardless of your style and your personal brand, you need to be appropriate – your choice of clothing needs to reflect the industry you work within, your company's corporate culture and your clients expectations. "
Advice for someone who is nervous to attend a networking event? Or to someone who gets nervous in social settings?
"You may look the part, exude confidence and know your material inside and out, but if you offer a weak handshake, head straight for the buffet line or deal out business cards like playing cards, your reputation is at stake. How you interact socially in a business setting, speaks volumes to your personal character.
Think about networking as an opportunity … an opportunity to learn something new, to meet someone new and to expand your network. Don't focus so much on telling everyone, everything there is to know about you (and your fabulous company, product or service) but try focusing on learning as much as you can about someone else. And remember, it isn't about how many people you meet, much more important when expanding your network is the quality of your connections."
MEDIA CONTACT :
Tracy Lamourie
Lamourie Public Relations
or :
Courtney Feldman, President,
204-999-5057

Connect with HIGHStyle today to boost your professional presence, inquries@highstyleimage.com.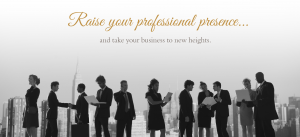 The experts at HIGHStyle Impression Management are internationally trained, impression management professionals, recognized by the International Civility Trainers' Consortium. www.highstyleimage.com