Impressions Matter
HIGHStyle IMPRESSION MANAGEMENT PROFESSIONALS

Whether you are…
leading a team that needs to exhibit a professional presence
recently graduated, re-entering the workplace or accepting a promotion and wanting to put your best foot forward
finding yourself called upon to speak in public or network within your industry
…or are just in the mood to freshen up your look, boost your confidence, or feel socially confident – presenting a positive, lasting impression can make all the difference. The HIGHStyle team is available to help with customized impression management training, consultations, and related services.
---
Featured Programs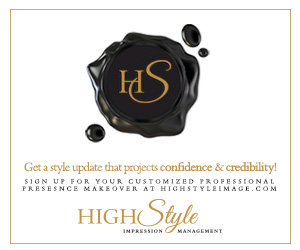 Professional Presence Makeover
Your Style Update!
What you wear and how you wear your clothes, speaks directly to your professional image of credibility and confidence. Your image is most often the first impression we make with someone – it is critical that what you choose to wear each day compliments your body type and highlights your best features.
Learn more about this insightful and introspective, customized session that will leave you looking and feeling your best! Email inquiries@highstyleimage.com to receive your FREE Personal Image Assessment.