With so many online connections made daily and fewer personal networking opportunities presented to us, are business cards really necessary? Some will say that the traditional business card is a thing of the past. And many people would argue that it is easier to find and connect with other professionals online – forget about the old fashioned 'paper-pushing' ways of the past!
I would agree, and say that yes, we are seeing fewer and fewer business cards in circulation, but I believe they still hold a unique place in our networking adventures.
In the online world, it is hard to mimic the significant impact of the impression you make when meeting someone in-person. When meeting someone for the first time, your professional presence, demeanour, social actions and communication skills speak volumes to your level of expertise, confidence and credibility. Although a well designed online personal profile will give the reader a glimpse into your brand and a general sense of your skills and abilities, it cannot replicate the impression that is left after an in-person meeting.
It is for this reason, that getting out of the office and networking will never go out of style! And it is in these situations that a business card plays a significant role, as it becomes an extension of your professional presence. In many cases, your business card is the 'impression' of you that your contact takes with them back to their office. A creative, well-designed card that reflects your brand will be noticed and remembered. What other piece of your conversation, your business, or your brand, physically leaves… and goes with your new contact back to their office?
To ensure you are making a positive and professional impression with your business cards, take the following tips into consideration:
Ensure your business card reflects your professional brand. Your business card should be eye-catching, professional designed and reflect the unique interests of your industry. And most importantly it should be easy to read.
Store your business cards properly. Don't simply throw a couple in the bottom of your purse and expect them to look presentable. Don't hand out a card that has folded corners – remember, your business card is an extension of your professional presence.
Business cards are NOT trading cards. These cards are meant to reinforce a connection you have made with a new acquaintance. They are not to be given away freely to everyone who you pass.
When you are given a business card:
Take a moment to acknowledge the card. Deliberately take a second to look at the card…remember, both sides!
Don't immediately throw it into the bottom of your purse or pocket. This sends a sign of disrespect and a flippant attitude that you don't really care. Slip it into a side pocket, the pocket of your suit jacket or include it in your own business card holder.
Mention something unique about the card. Do you like the design? Or maybe comment on the creative logo. Say something that shows your contact you have taken the time to read and acknowledge the card. This is the personal (and professional) touch that our 'likes' and 'connections' in the online world simply can't reproduce.
Important tip from the professionals at Civility Experts Inc: Only give business cards when business is involved. For example, it would not be appropriate to attach a business card when you send flowers to a co- worker or client who has had a death in the family. Nor would it be appropriate to attach a business card to a gift sent to someone when they've just had a baby. An easy rule to remember is that if there is emotion involved, don't send a business card.
Although we may find ourselves spending a lot of our time focusing on our online presence and connections, remember, it is also important that we don't overlook the little details associated with our professional presence when we step out of the office and into a networking situation!

Nervous about attending an upcoming networking event? Not sure what to wear? How to prepare? Or what to do when you get there!
Networking can be an intimidating word to many professionals…but it doesn't have to be! Contact an expert at HIGHStlye Impression Management to coordinate a private coaching session so you can feel confident walking into your next business event. inquiries@highstyleimage.com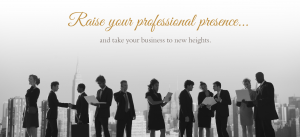 The experts at HIGHStyle are internationally trained, impression management professionals, recognized by the International Civility Trainers' Consortium. www.highstyleimage.com