Networking….at the sound of the word, how many of you let out a long 'sigh', "Not again!"? Or, did you break into sweats from nerves?
Last weekend I was invited to attend a small and casual networking opportunity…YES that is right….I said opportunity! Too often, networking is thought of as a chore or as time away from family, friends and…'real work'. But, if we shift our thinking from 'I must meet as many people as I can, and sell them my product'…to an attitude of simply meeting new people, you will quickly realize, that networking is not scary or boring and in fact, it can be an enlightening and enjoyable experience!
It's an opportunity to learn something new.
It's an opportunity to meet someone new that you can help.
It's an opportunity to step outside your comfort zone.
It's an opportunity to meet someone new that can help you.
It's an opportunity to expand your network.
However, engaging in networking is also an opportunity for you to discredit your reputation
Our friends at Civility Experts Inc. provide us with some practical tips for making the most of any cocktail style networking opportunity.
1. Wait. Don't just jump in and start talking, interrupting an on going conversation, wait for a verbal or nonverbal invitation to join into the conversation. Once you have been included, smile, introduce yourself and extend your hand for handshaking.
2. Eye Contact. Try to maintain eye contact and make sure to extend a warm welcome to any others who approach. Also try to make an effort to include everyone in the conversation.
3. Avoid. Avoid the following topics:
Jokes about gender or nationality
Stories about your personal relationships or sexual escapades
Health, diets, weight or your latest exercise plans
Personal crisis; your own or someone else's
Your income or how much something costs
Office politics, rumors, gossip or controversial topics like religion.
4. Be Conscious of Time. Don't monopolize the host or any one guest's time. Circulate around the room and don't expect to meet everyone. A few good contacts that will remember you are far more valuable than twenty momentary meetings.
5. Exit Politely. If you need to end a conversation, say excuse me, extend your hand and make your exit. If you leave before the end of the function, say a polite thank you to the host and comment positively on the party (or the food). If the host is busy, slip out quietly and telephone them the next day or send a handwritten thank you card (you will stand out from the crowd for sure!). A polite host will not request an explanation and a polite guest need not provide one.
6. Business Cards. When someone hands you a business card, take a moment to read it and comment on the card, note their title, credentials the company listing or something relevant about the card. Do not write on the back of someone's card (until you are back at your office) and do not simply collect cards and insincerely shove them in your coat pocket. Both actions are very disrespectful.

Nervous about attending an upcoming networking event? HIGHStyle can help you step into your next networking opportunity with confidence!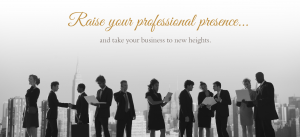 The experts at HIGHStyle are internationally trained, impression management professionals, recognized by the International Civility Trainers' Consortium. www.highstyleimage.com